About Us
UNI MODERN TOOLING SOLUTION PVT LTD
UNI MODERN TOOLING SOLUTION PVT LTD was entrenched in 2013 with quality management system certification ISO 9001:2015 which is one of the fastest burgeoning manufacturing company in engineering and specialized in plastic injection mould and moulded parts in South India.
Here we are committed to design and develop the innovative injection mould with customer friendly in finding solution to meet the customer requirement and ensure customer satisfaction.
Our organization is a one way solution for all types of injection mould in the categories of automobile and home appliance and specialized in functional parts like Console TGS Bracket, Ideal Gear, impeller and fitment parts like – exterior Trim (visor, side panel, tail cover,front and rear fender, mudflap, chain cover, Door and wheel cover) and Inner trim (cluster, bezel,) seat base, utility box, battery box and swing arm.
ACHIEVEMENTS
Got Award from TVS MOTORS as a best supplier for manufacturing the moulds in short period with higher quality.
With over the two decades, Experience with sound knowledge in the field of injection mould and moulded components.
Strong passion for quality with our state of the art mould facility and young vibrant team of professionals lead by Mr. Bharani, Managing Director of Uni Modern Tooling Solution Pvt Ltd.
And I'm delighted to carry on in the tradition Tooling way as well as ensure the innovative tooling with perfection with the latest technologies giving 100% quality mould.
Undergone training in China and Korea and understanding the practices of mould manufacturing skill like line production, TQM, controlling 7 waste and short time mould manufacturing. It help to achieve Award winner from TVSM and Superme industries for short time mould manufacturing within 20 days molds like fender mould and 40 days for Door mould (TVS 3 wheeler).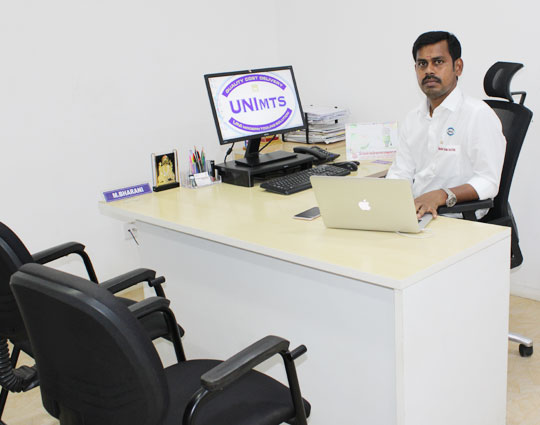 UNI MTS committed to meeting customer requirements through continual improvement of its quality management system and all process involvement of all employees in every activities safe & green work place environment maintaining.
Committing to achieve " TOTAL CUSTOMER SATISFACTION" by providing the best quality of service both in quality & delivery by meeting or exceeding customer expectations through complying with all applicable requirements.
This policy is communicated to all levels of the company and its is reviewed for continual improvement and suitability.